She walks like an Egyptian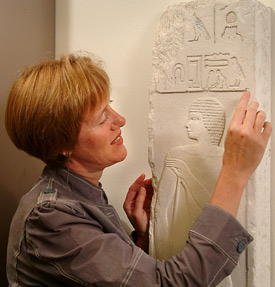 Photography by Reed Hutchinson
UCLA Photographic Services
Egyptian archaeologist Willeke Wendrich

BY WENDY SODERBURG
UCLA Today Staff
Willeke Wendrich, associate professor in the Department of Near Eastern Languages and Cultures, wasn't even living in the United States during King Tut's record-breaking stint at the Los Angeles County Museum of Art (LACMA) in 1978.
This time around, however, the Dutch-born archaeologist was one of the first to experience Tut's triumphant return to LACMA as an invited guest to the opening of "Tutankhamun and the Golden Age of the Pharaohs." Wendrich, in fact, is one of four Egyptology experts who will speak on July 9 at UCLA Extension's "Tutankhamun: In Death, Larger Than Life," a one-day program that will explore the life and times of the boy king.
"Tutankhamun is an icon for the mystery of ancient Egypt, combining gold, precious stones, incredible craftsmanship, mysterious gods, symbolism and a very touching humanity, all wrapped in one," she said.
One of only two Egyptologists on campus — philologist Jacco Dieleman is the other — Wendrich has been in great demand as an expert on Egyptian archaeology. Besides lecturing at the Bowers Museum in Santa Ana, Calif., which currently boasts its own exhibition, "Mummies: Death and the Afterlife in Ancient Egypt," she is also on the academic editorial committee for UCLA's Encyclopedia of Egyptology, an online publication that will be an English version of the Lexikon der Agyptologie, the standard reference work in the field.
In her popular Fiat Lux classes, Wendrich's freshman students are immersed in Egyptian history and archaeology and are required to speak in class on topics ranging from mummification to the Book of the Dead, while her graduate students present research as part of Wendrich's annual public lecture series, "Wep Wa-ut in Westwood."
It sounds cool, but for Wendrich, it's all in a day's work. Every Fall Quarter, she takes graduate students to Egypt for a three-month fieldwork seminar. "If you work in this area, you have to visit the region. We don't want any 'armchair' Egyptologists," she said, laughing.
Born in the Dutch town of Haarlem, Wendrich was raised on an island in the northern Netherlands called Texel. At 17, she attended the University of Amsterdam and chose history of religion as a major because she feared that Egyptology, her true love, would be too specialized for her to find work.
But the lure of the field proved too strong, and Wendrich received a Ph.D. in Egyptian archaeology at Leiden University in the Netherlands. While writing her thesis on ancient Egyptian basketry, she organized an excavation in a remote desert site near the Sudanese border. The site, called Berenike, was the first dig Wendrich co-directed.
In 2000, she accepted an assistant professorship at UCLA and brought her husband, Hans Barnard, with her. A medical doctor, Barnard has become as enthusiastic about archaeology as his wife and is working on a Ph.D. in ceramics from Leiden University.
Wendrich laughs at comparisons to Indiana Jones, but admits there are similarities. "It has aspects of that, I must confess," she said. "Driving around the desert in a four-wheel-drive pickup ..."